Our company was fortunate to participate in the 134th Canton Fair. In the early stage of the Canton Fair, we spent a lot of time and energy preparing for the exhibition. From the selection of exhibits to booth decoration, etc., all were taken care of by very professional people and companies. In addition, colleagues who go to the exhibition have undergone strict screening and training. They have a good understanding of product expertise and industry development trends, and can provide customers with high-quality services.
Our booth decoration uses the color of the logo design for the overall construction, and uses bright orange as the main color of our booth, which makes our booth stand out among many booths. After the feedback from the exhibition site in the first three days, we are indeed Our booth was visited by many customers. They came to our booth in an endless stream to learn about our products and have in-depth exchanges with our sales team. Some customers showed great enthusiasm for our products at the scene. For large interest, request an on-site quote.
Another thing worth noting is that our exhibits, especially the grinding products, have become a popular choice among customers at the booth due to their uniqueness and excellent quality (efficient grinding performance, excellent durability and safety). Our grinding wheels, grinding plate and grinding disc became the star exhibits of this exhibition, and our sinter hot-pressed saw blades and diamond core drill bits also attracted the attention of many customers.
In the first three days of this booth, we have received business cards from nearly a hundred customers. At the exhibition, our sales colleagues communicated with customers about products and made on-site quotations for products that customers requested, which greatly improved the order completion rate. efficiency. For some customers who are just interested in the product, we will also communicate in detail to recommend the most suitable and cost-effective products to them. On the day after the exhibition ends, our sales team will also conduct a review and summary of the customers on that day so that we can Deeply understand customer needs and provide better services to customers.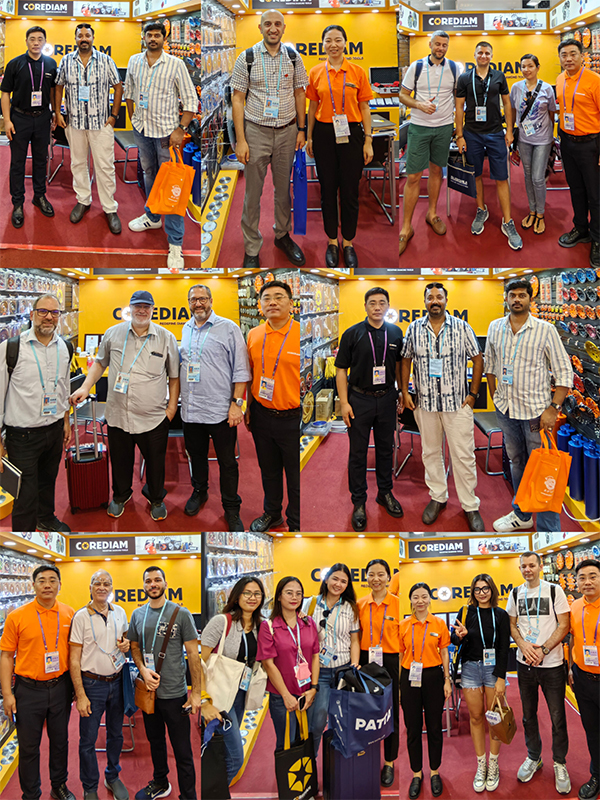 Finally, all customers are welcome to visit our booth. Corediam Diamond Tools will continue to be committed to improving the innovation, quality and customer satisfaction of diamond tools, and providing customers with excellent products and services.