Corediam Tools Co.,Ltd unveiled at World Concrete 2020
In 2020, Corediam Tools Co.,Ltd will go abroad to communicate closely with customers and participate in exhibitions. On February 4-7, 2020, the World Concrete Exhibition was grandly held at the Las Vegas Convention Center. Corediam Tools Co.,Ltd as a learner and innovator, also appeared on the exhibition site without any surprise.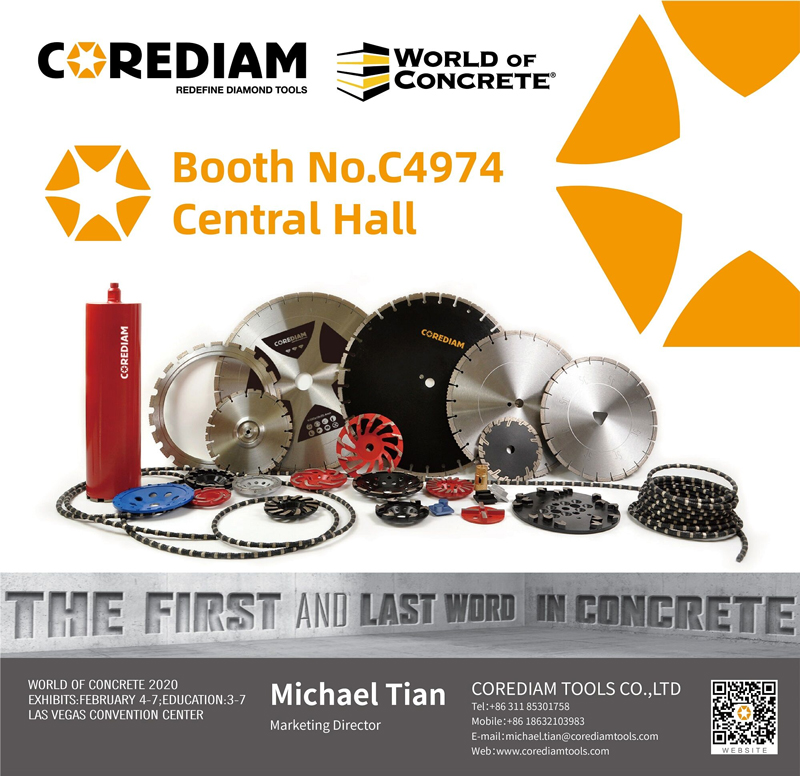 World OF CONCRETE and International Construction Machinery Exhibition in Las Vegas, USA is the largest concrete world and international construction machinery exhibition in the world. It has great influence in the world's concrete production, equipment manufacturing and related construction machinery industries. The scale of the exhibition is huge, and there are many exhibitors. At the exhibition, we can get to know customers and peers at a close distance. This is one of the reasons why we participate in this exhibition.
At this exhibition, our boss Michael and key colleague Sara brought the company's superior products, including laser saw blades, grinding shoes and grinding plate . The products have good performance and unique packaging design, attracting many new overseas customers. Consult products.

After this exhibition, the reputation of Corediam Tools Co.,Ltd overseas has been expanded, and some new customers with needs and interests have been harvested. At the same time, they have also visited old customers in neighboring countries during the exhibition and maintained old customer relationships.
Welcome to contact us to learn more about industry information and knowledge about diamond tools.