The 134th Canton Fair will officially kick off on October 15, 2023. The Canton Fair is China's largest comprehensive international trade exhibition with the most complete range of commodities and the largest number of buyers. It attracts buyers and suppliers from all over the country and involves many industries. industries (tools, building materials, medical, machinery, etc.), it has attracted much attention with its international stage and diversified communication opportunities.

As the 134th Canton Fair approaches, Corediam company has actively launched preparatory tools to fully prepare for the upcoming Canton Fair. Our venue is the Tool exhibition section, which is the first phase of the Canton Fair and will be held from October 15th to 19th, 2023 in Guangzhou,Our booth number is 12.1H39. Please refer to the picture below for the specific location.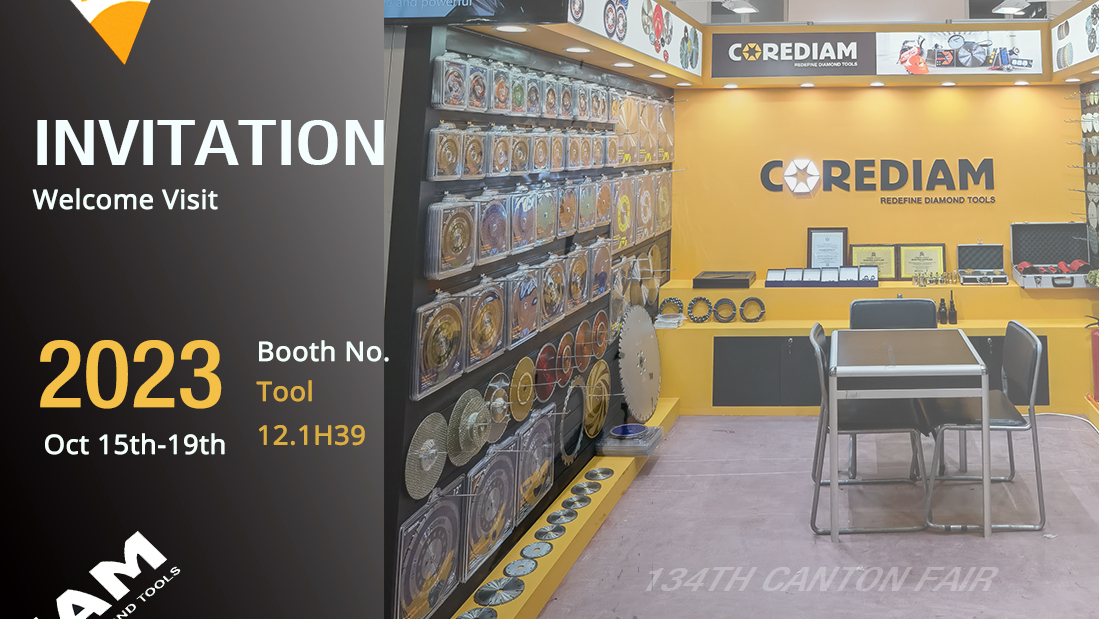 Our company's products at this exhibition are mainly sintered diamond blade, laser welded saw blade,grinding wheels, grinding plate, grinding discs, laser welded diamond core drill bits, wall saw blades, etc.
First of all, at the exhibition, we cater to the needs of customers and hang the products that customers need in eye-catching locations. We will also showcase our superior products and innovative products to customers and seek broader business cooperation opportunities. At the same time, our showroom has also been uniquely designed and decorated, using bright and bold colors to highlight our showroom. I believe it will definitely attract the attention of many potential customers.
Secondly, at the exhibition, you can have a more in-depth and close understanding of our products and services, communicate face-to-face with customers, and share market information and industry experience with customers. At the same time, we also provide customers with product brochures and canvas bags. , it is convenient for customers to carry and they want to know more about Corediam products after the exhibition. In addition, there is a QR code for the Corediam website on our product brochure. Customers can scan the code on site to learn about our products and company independently.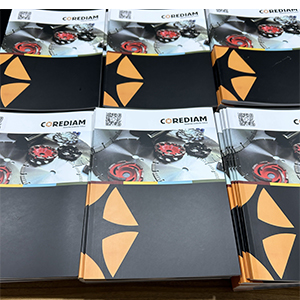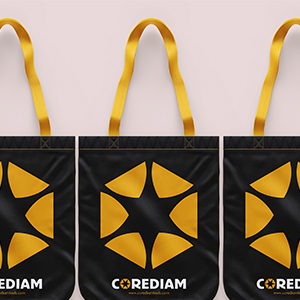 In addition, we will actively interact with other exhibitors and buyers at the exhibition to expand our corporate influence, hold Q&A activities, and attract more customers to our booth.
In addition, due to the nature of the Canton Fair, a large number of foreign buyers will come to this exhibition for viewing and purchasing. The following are some points that foreign customers need to pay attention to:
1. Obtain the official invitation letter from the Canton Fair and apply for a business visa from the local Chinese Embassy.
2. Apply for the overseas purchaser certificate in advance and collect the certificate at the Canton Fair exhibition hall.
3. Due to the huge flow of people during the Canton Fair, hotels and transportation will be very busy. It is recommended to book accommodation in advance and familiarize yourself with the surrounding transportation.
Customers and friends who have demand for hardware tools and have plans to participate in the exhibition are welcome to contact us. If you have any questions, we can help solve them.
We hope that through the 134th Canton Fair, we will display the company's strength and products in multiple dimensions, so that more foreign customers can understand Corediam tools and seek more business cooperation opportunities.
The 134th Offline Canton Fair, here we come!